Analyzer Description
Configuration:

1-valve, 1-capillary column, PFPD

Sample type:

Natural gas and gaseous fuels

Compounds Separated:

Hydrogen sulfide, carbonyl sulfide/sulfur dioxide composite, methyl mercaptan, ethyl mercaptan, dimethyl sulfide, carbon disulfide, isopropyl mercaptan, t-butyl mercaptan, n-propyl mercaptan, ethyl methyl sulfide, thiophene/2- butyl mercaptan composite, diethyl sulfide, n-butyl mercaptan, dimethyl disulfide, bromothiophene/diethyl disulfide composite, methylthiophene, 3-methylthiophene, phenyl mercaptan, benzothiophene

Lower detection limits:

0.05 ppm

Methods met:

ASTM D6228, Wasson-ECE W4427
Typical Chromatogram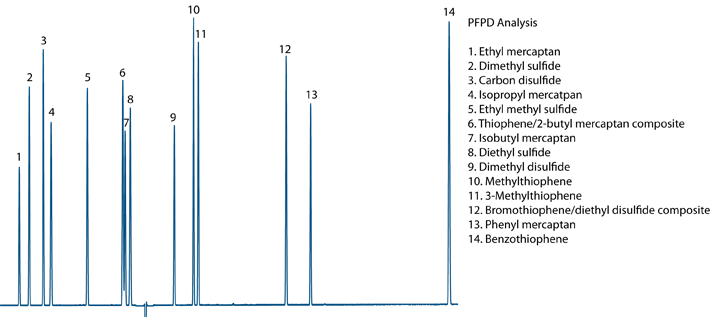 Key Features and Benefits
Gas chromatograph can be configured to contain additional applications.
Cryogenic cooling may be used to separate carbonyl sulfide and sulfur dioxide.
Fused silica lined tubing ensures repeatability and the lowest detection limits.
PFPD provides proportional response allowing uncalibrated peaks to be quantified using response factors from known peaks of similar structure.