Analyzer Description
Configuration:

Auto-injector, 1-capillary column, SCD

Sample type:

Benzene

Compounds Separated:

Thiophene

Concentration range:

0.02-2.0 ppm

Methods met:

ASTM D7011, Wasson-ECE W4457
Typical Chromatogram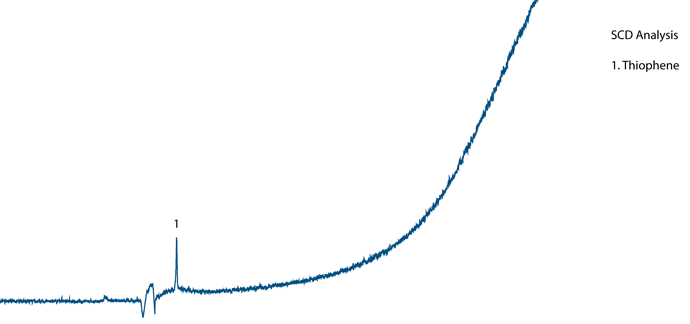 Key Features and Benefits
Gas chromatograph can be configured to contain additional applications.
Fused silica lined tubing ensures repeatability and the lowest detection limits.
High selectivity and equimolar for sulfur.
Sulfur treated inlet and sample lines ensure no sulfur lost during sample introduction.
A 3-way decoking valve alleviates any coking problems that might occur in the SCD burner during the oxidation process and ensures maximum response and consistency.