Analyzer Description
Configuration:

PDHID in series with TCD, internal vaporizer, 2-valves, 1-capillary column, 1-packed column, vacuum pump

Sample type:

High purity liquid and gas organoflourides

Compounds Separated:

Nitrogen, argon/oxygen composite, methane, carbon monoxide

Concentration Range:

1.00-500 ppm for nitrogen by PDHID
0.50-500 ppm for methane and carbon monoxide by PDHID
500 ppm – 5.00% for all components by TCD

Methods met:

Wasson-ECE W3335
Typical Chromatogram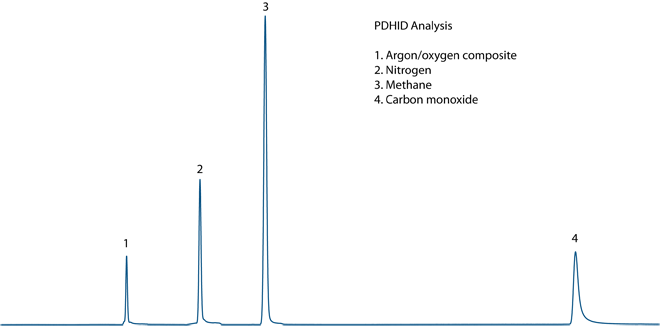 Key Features and Benefits
Oxygen will be detected by the PDHID but will not be quantified. For accurate trace oxygen analysis an external oxygen sensor is required.
Internally purged diaphragm valves ensure no air contamination and the lowest detection limits possible.
Cryogenic cooling may be used to separate argon and oxygen.
On-board vaporizer converts liquid to gas phase prior to injection for more repeatable analysis.
Fused silica lined tubing ensures repeatability and the lowest detection limits.
PDHID and TCD in series provides wide detection range.
11 minute analysis time.